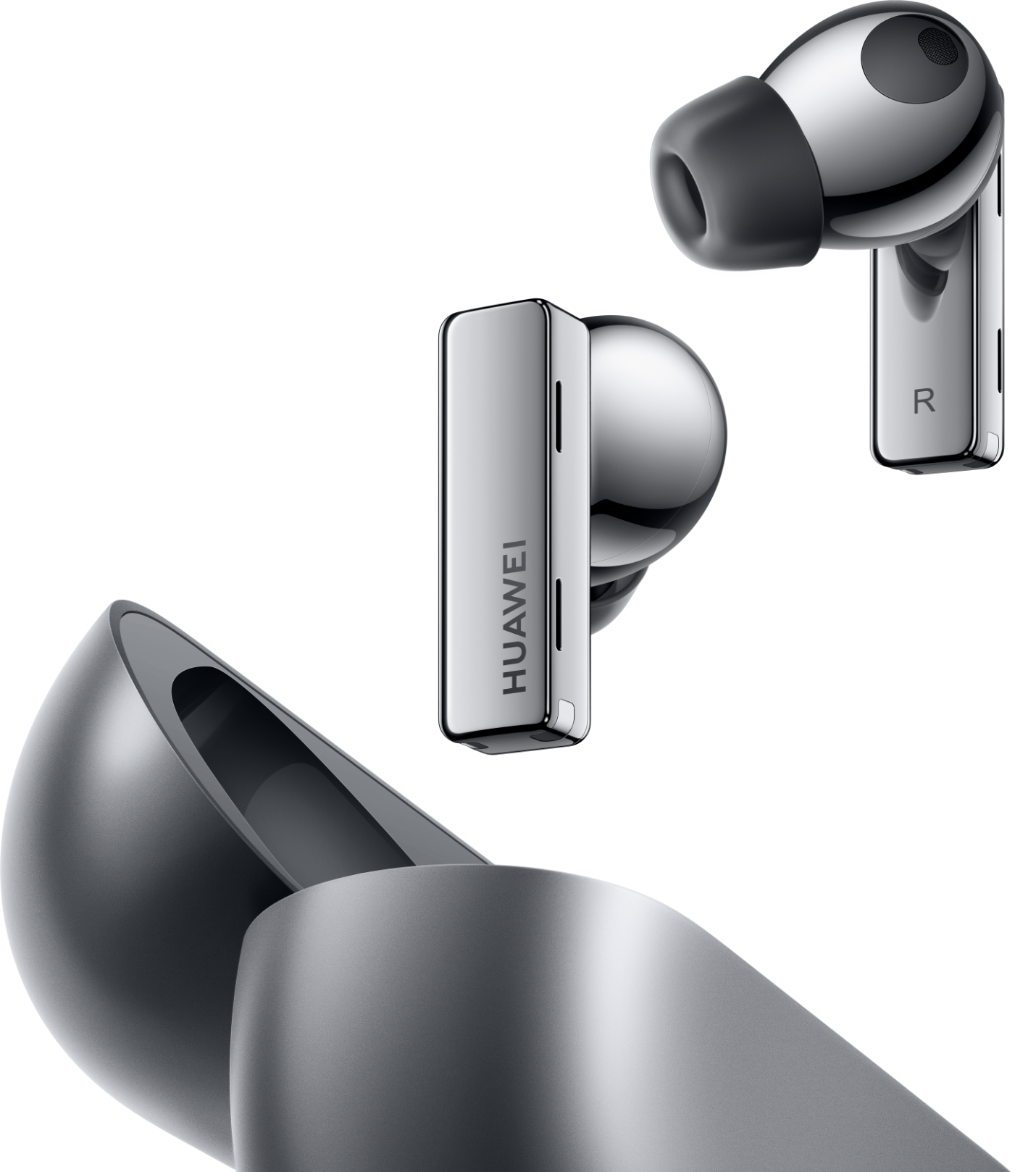 Redefine Noise Cancellation
Cancel out the noise, dive into the beats.
Voice hear-through, always stay connected.
Feel the music with HUAWEI FreeBuds Pro.
Immersive sound, inspiring style.
Hybrid Active Noise Cancellation
Cut Down the Noise from Inside and Outside
Adopting the Hybrid Active Noise Cancellation Technology,
the inward-facing and outward-facing microphones detect the out-of-ear and in-ear residual noise,
and then the dynamic drivers generate accurate anti-noise signals.
Achieving up to 40 dB noise cancelling effect,
HUAWEI FreeBuds Pro allows you to experience the tranquility and purity.
Intelligent Dynamic ANC
Read the Surroundings, Optimize Noise Cancellation
Recognizing the ambient sounds intelligently,
HUAWEI FreeBuds Pro switches the noise cancellation mode accordingly for a more suitable hearing experience.
Ultra Mode
Lay back with deeply enhanced noise cancellation when traveling.
Lose yourself in the music and stay away from the disturbance.
Cozy Mode
Keeps you focused by reducing noises
from paper flipping, typing, computers and
occasional conversations in the workplace, libraries
and other quiet environments.
General Mode
Enjoy the immersive music or game sounds in bustling streets or crowded cafés as the ambient noises are greatly reduced.
Voice Mode
Let the Sound Through, Make the Voice Clear
No need to take off your earbuds.
Just a long press, you can switch to awareness mode and reconnect with your surroundings.
The unique Voice Mode reduces the ambient sounds to make human voices stand out.
So you don't miss the airport broadcasts or a quick chat with friends passing-by.
Voice Mode
Awareness Mode
Off
Dual anti-wind noise structure ensures clear calls during high-speed riding.
Make yourself heard even when whispering, just take off one earbud and pinch the stem twice within five seconds to use it as a microphone.
Feel the thrill in action with a fast and accurate gaming experience.
The Style that Speaks for You
HUAWEI FreeBuds Pro comes in three different colours to match the sound you love:
the sleek and edgy Silver Frost with subtle metallic shine, the elegant and discreet Ceramic White for a sophisticated style,
and the classic Ceramic White that goes with most occasions.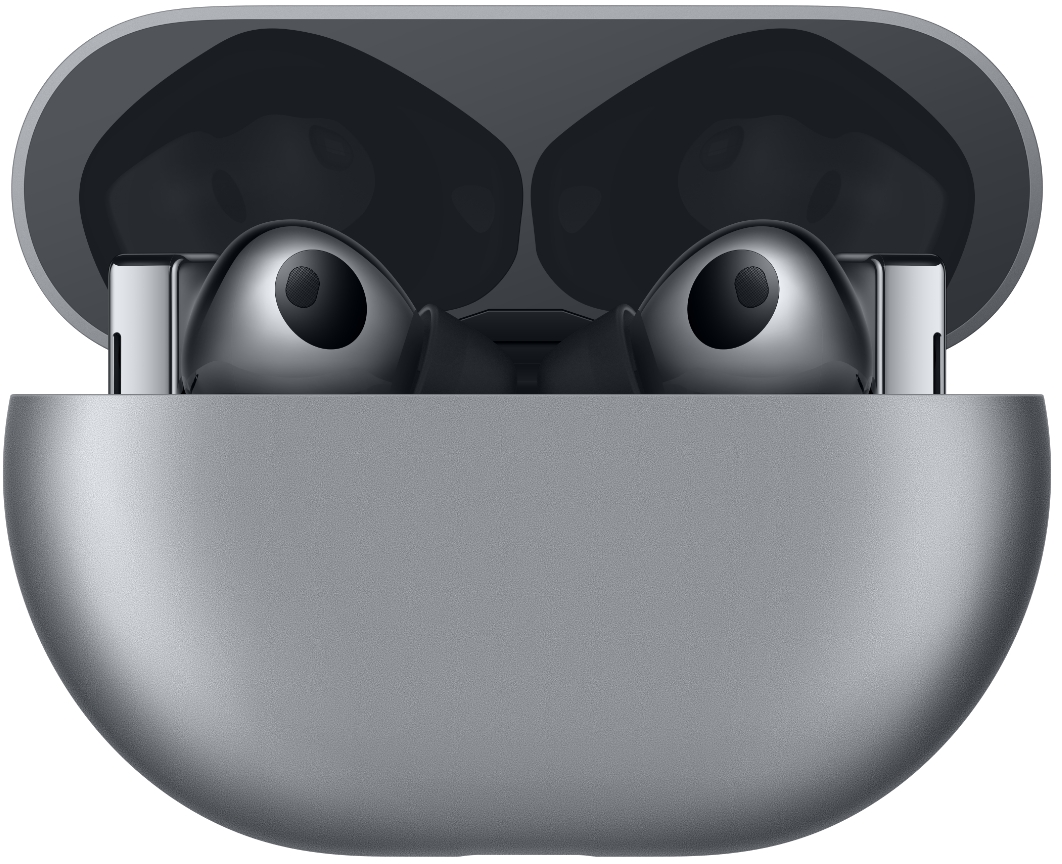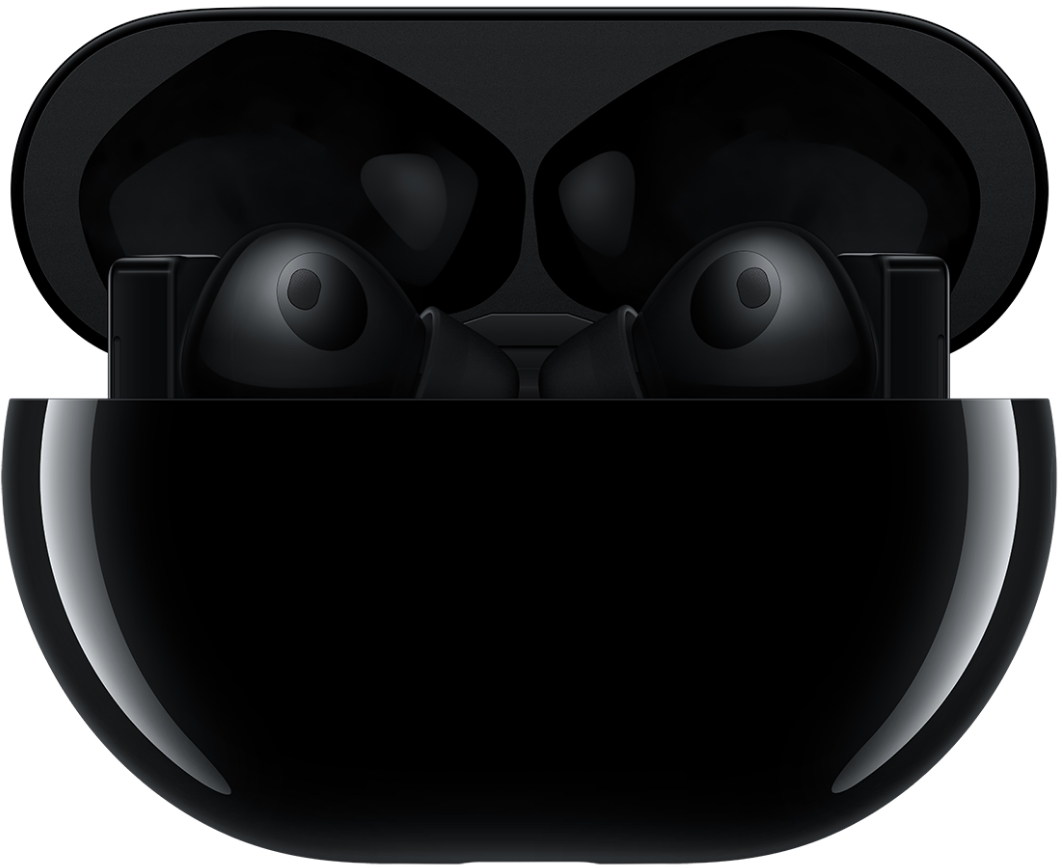 Ceramic White | Silver Frost | Carbon Black
Wear it All Day
Stability
Soft silicone earplugs are available in 3 sizes.
The intelligent Compactness Detection feature helps you to choose the most suitable ones that fit in your ears.
In-ear Fit
The front and rear ear cavity conduction design balances in-ear air pressure in and out, ensuring air circulation to avoid discomfort.
Comfort
The compact and lightweight body adopts a smart design that makes it almost unperceivable in ears for greater comfort.
Smart Control at Your Fingertips
The highly sensitive sensor responds accurately to your demands.
With swipe, press or pinch, you can turn up or down the volume, take calls, or change your music easily.
Smart interactions, easy to control.
Long press

ANC / Awareness Mode

Swipe

Swipe up: volume +
Swipe down: volume –

Pinch once

Play/Pause music
Answer/End a call

Pinch 3 times

Previous song

Ready to Last, Enjoy Your Best

With noise cancellation turned-off, a single charge brings you up to 7-hour listening, and up to 30 hours when coupled with the charging case.

You can also use your smartphone or tablet to reverse-charge the charging case while you are on the go.

With noise cancellation turned-on, a single charge brings you up to 3.5 hours of calling, and up to 16 hours when coupled with the charging case.

With noise cancellation turned-on, a single charge brings you up to 4.5 hours of listening, and up to 20 hours when coupled with the charging case.

Pop, Connect, Go
Open the charging case, a pop-up should appear on your phone that prompts first-time paring or resumes connection,
while showing how much battery you have left.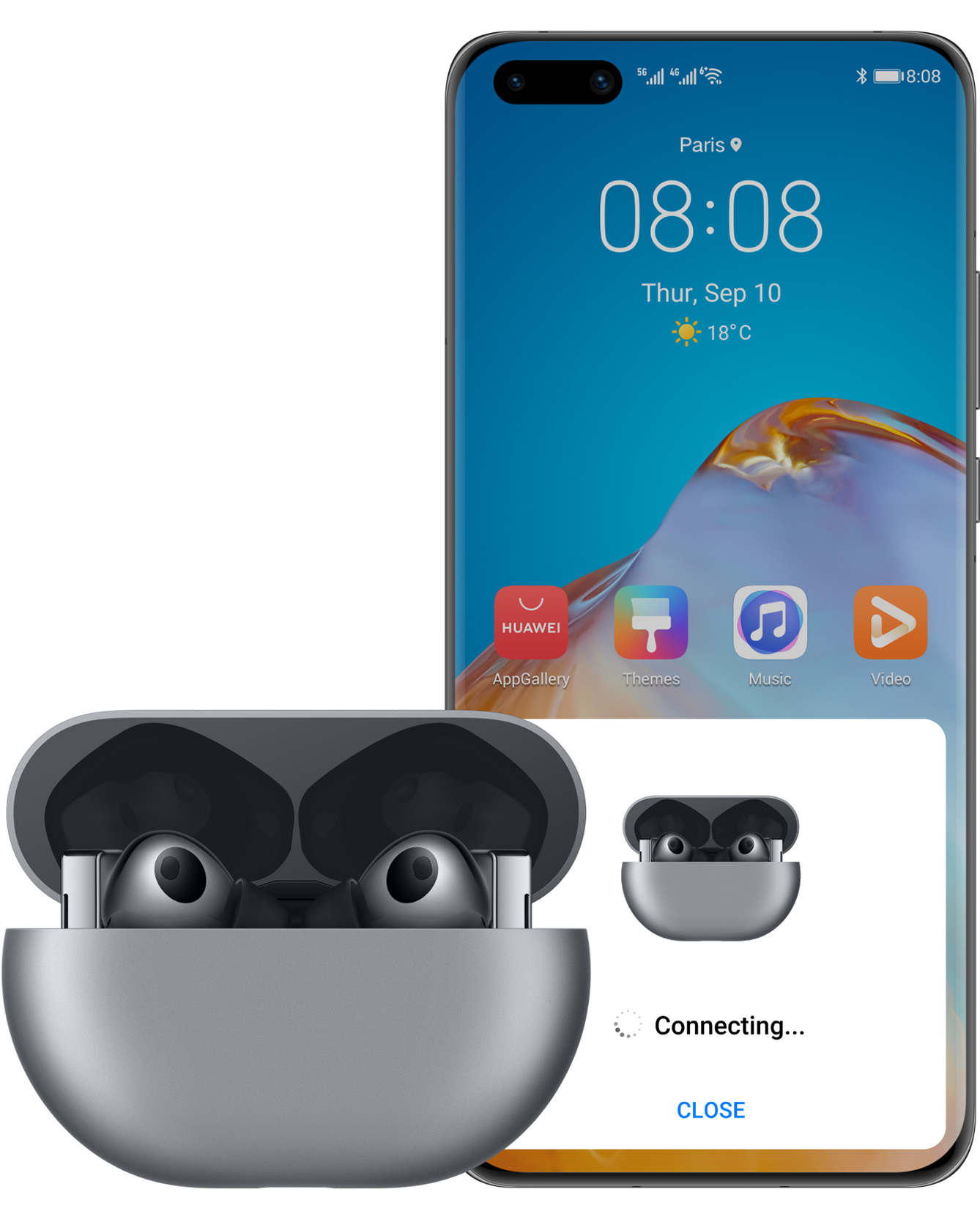 Dual Device Connection, Seamless Switching
Supporting simultaneous connection with two devices,
it also allows swift switching between them by pinching either earbud.
You can go back and forth smoothly among smartphones, tablets, PCs and more smart devices.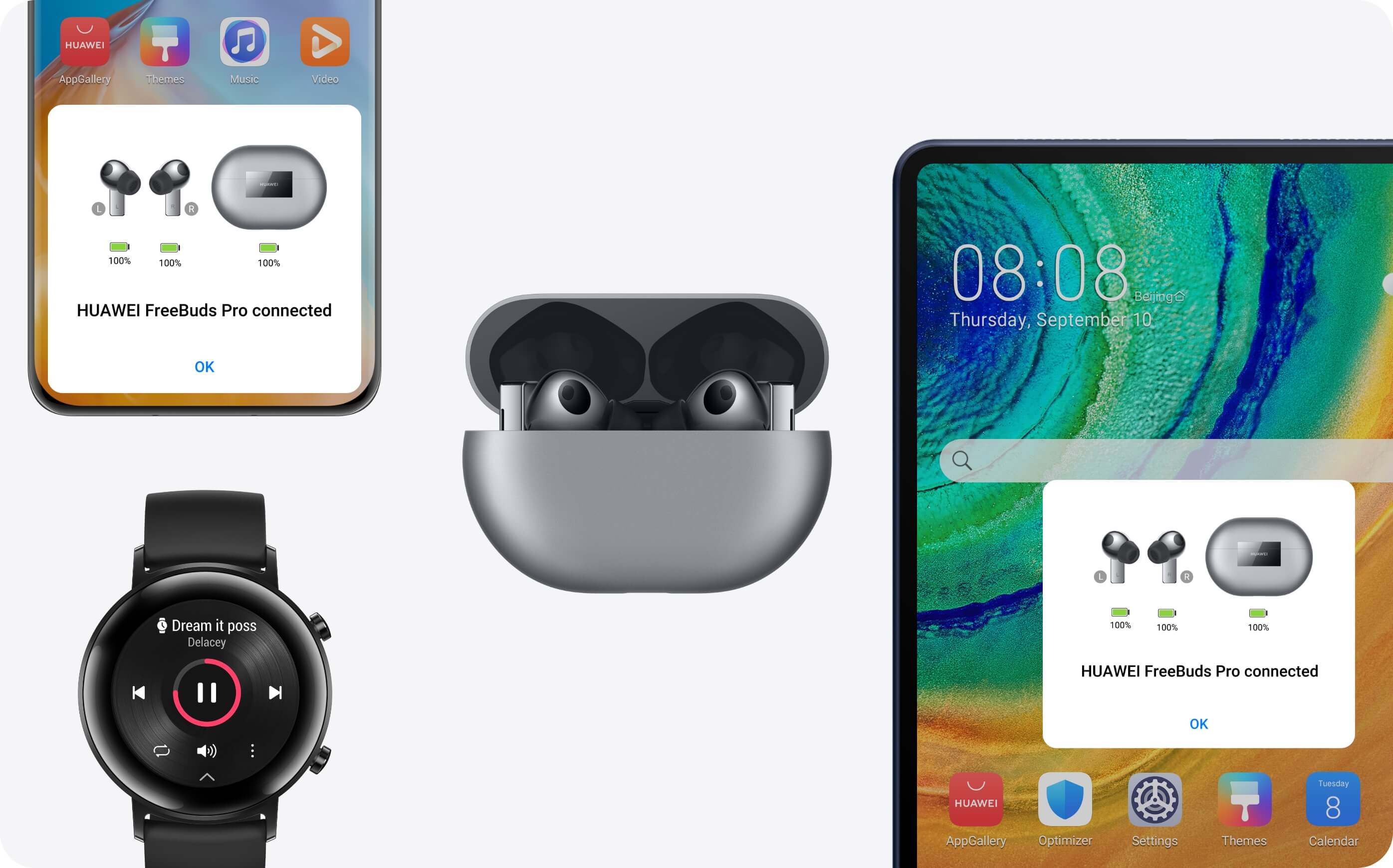 Intelligent Compactness Detection
With intelligent Compactness Detection to analyze the earplugs that fit your ears after wearing,
you can pick up the most suitable ones to enjoy better noise cancellation and more immersive sound.
Get AI Life for Your
HUAWEI FreeBuds Pro
Get the most out of your new HUAWEI FreeBuds Pro with the AI Life App.
With just a few taps in the App,
you can choose from different noise control modes,
discover the perfect fitting tips for your ears,
track the location of your earbuds, plus many more exclusive features.
*AI Life App is NOT available on iOS or Windows smartphones yet.
Green & Healthy
Obtaining Grade I Certification of the industrial global certification SGS,
HUAWEI FreeBuds Pro's innovative green technology takes the lead among the industry's green standards.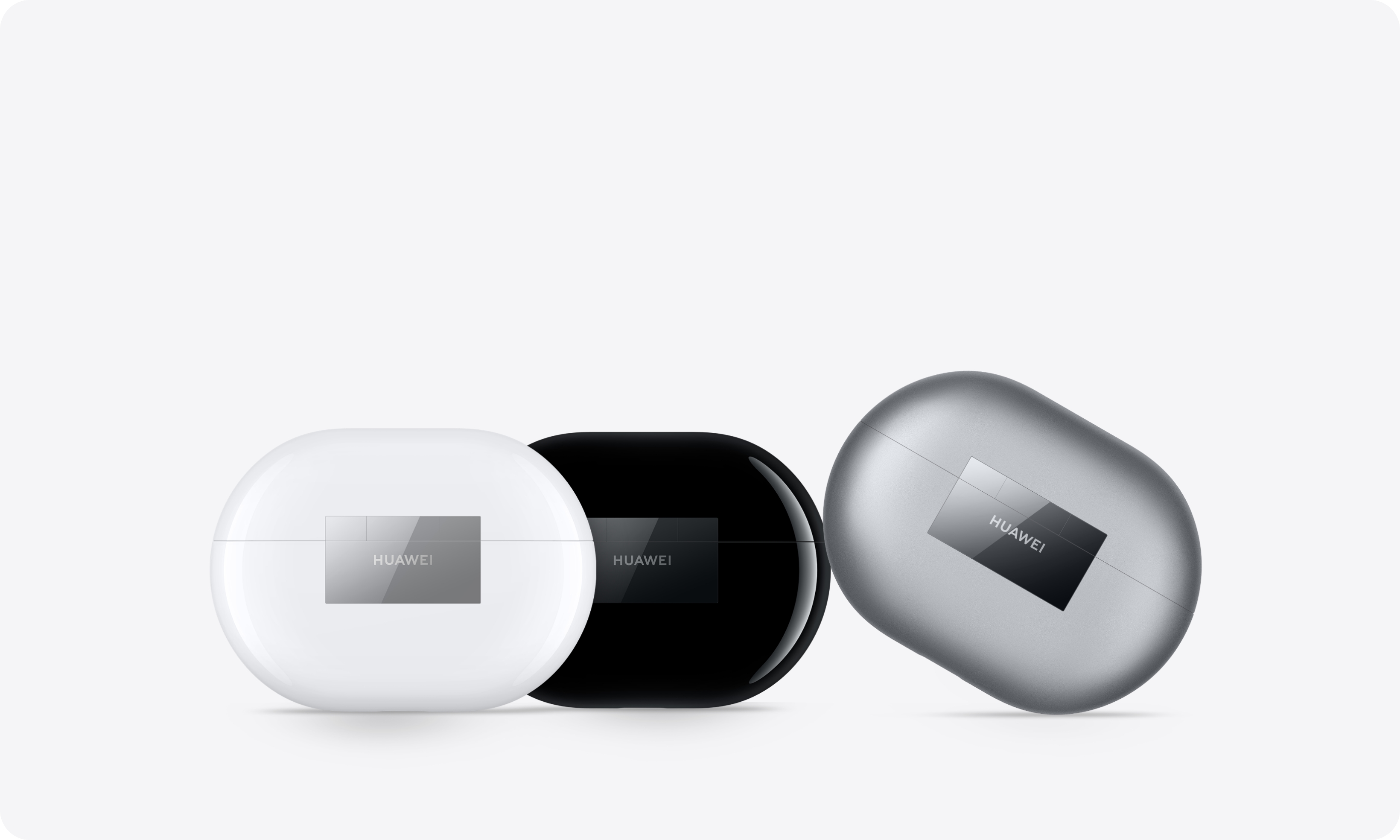 Per earbud
Height: 26 mm
Width: 29.6 mm
Depth: 21.7 mm
Weight: About 6.1 g
Charging case
Height: 70 mm
Width: 51.3 mm
Depth: 24.6 mm
Weight:About 60 g
Ceramic White
Silver Frost
Active noise cancellation
Call noise cancellation
Awarness mode
Voice mode
Bone sensor supported
Battery capacity
Per earbud: 55 mAh (min.)
Charging case: 580 mAh (min.)
Playtime
Music playback:
4 hours (with ANC enabled)
7 hours (with ANC disabled)
Voice calls:
2.5 hours (with ANC enabled)
3 hours (with ANC disabled)
Charging
Wired: USB Type-C (5 V / 1.2 A / 6 W)
Wireless: supported (2 W)
Charging time
About 40 minutes for the earbuds (in the charging case)
About 1 hour for the charging case (wire, without earbuds)
About 2 hours for the charging case (wireless, without earbuds)
11 mm dynamic
Bluetooth Compatibility:BT 5.2
Pop-Up & Pair:Supported
Wearing Detection:Supported
Simultaneous Bluetooth connection with dual devices:Supported
*Requires smartphones running EMUI10 or above.
Earbuds
Silicone ear tips (three sizes)
Wireless charging case
USB-C charging cable
Quick start guide
Safety information
Warranty card